Celebrating Adult Learners' Week
Adult Learners' Week is an annual campaign coordinated by Learning and Work Institute in partnership with Welsh Government.
Now in over 55 countries worldwide, each year we see over 10,000 adults in Wales participating in Adult Learners' Week activities. The aim of this campaign is to raise awareness of the value of adult learning, celebrate the achievements of learners and providers, and inspire more people to discover how learning can positively change their lives.
This year Adult Learners' week will be celebrated and promoted during 17 - 23 June and throughout the month of June 2019. Agored Cymru is pleased that so many of its centres are associated with the campaign.
Adult Learners Week is traditionally preceded by an awards event known as the Inspire! Awards. This is a prestigious event that Agored Cymru is proud to support through sponsorship. This year the Inspire! Awards ceremony took place 5th of June in Cardiff Bay. Those attending heard many inspirational stories of learners overcoming barriers, achieving great things and progressing to higher levels of learning and employment. It gives us tremendous satisfaction to know that Agored Cymru centres play a key role in facilitating this kind of success.

Andrea Garvey receiving the Life Change and Progression Award from presenter Sian Lloyd and Agored Cymru CEO, Kevern Kerswell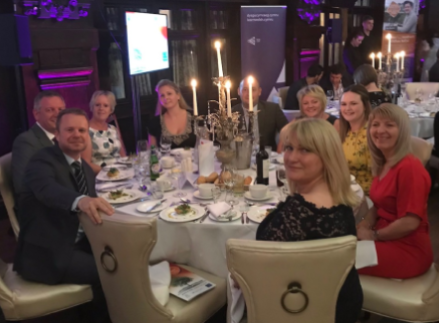 Agored Cymru staff attending the Inspire! Awards
One example of this kind of triumph over adversity is one of last year's winners, Catrin Pugh. Catrin completed an Agored Cymru Access to Higher Education Diploma with Coleg Cambria. You can watch a video of her story here:
https://www.youtube.com/watch?v=fuihHpsUi68
Agored Cymru has over 250 centres, with many providing learning opportunities for adults across Wales. Agored Cymru's Chief Executive Officer, Kevern Kerswell, explained what an important week this is in the calendar. "The team and I are proud to be associated with the exceptional body of professionals that deliver our qualifications for learners of all ages. Adult Learners Week is an opportunity to promote this valuable work across Wales. We offer units and qualifications at all levels, to suit a huge range of learners so that they can get on in work and in life. We wish everyone well this week as adult learning celebrations take place right across Wales."